Being a mom is an indescribable feeling. The amount of love I feel for my little man is something I have ever experienced before, it literally bring tears to my eyes.
The first couple of weeks, I will admit I didn't know what to do with him, being a first time mom it was a big adjustment. Having lots of children in the family I really thought it would be easier, but when it's yours and you are with that baby 24/7 it is a whole different ball game!
Aaron is now 7 weeks old and while I am still a novice, I still call family and friends for advice and still get nervous at the new things I am getting the hang of being a mommy more and more each day! There have been several items that have helped me and I am listing them to help others and to have this list handy for when we prepare for number 2! ☺
1. The Boppy!
I use the boppy for everything! For breastfeeding, propping aaron, tummy time, and sometimes for one of his little 10 min cat naps. (My boy doesn't really like to sleep)
-here's a pic of my munchkin on his-
2. Swadler!
We made the mistake in the early days of thinking aaron hated being swaddled - boy were we wrong, even though he still wakes every 2-3 hours most nights, we sometimes get a good 4-5 hour stretch when he cluster eats and get's a good tight swaddle.
3. The Happiest Baby on the Block!
Don't need to describe - just go buy it!
4. Breastfeeding Essentials!
Though I supplement with formula for various reasons, I also breastfeed and my goal is to continue to do until at least 6 months. I could not live without the following:
Lanolin Cream:
Breast pads:
Breast Pump: Prep for when I return to work. I love my Madela PISA - I have to say it treats me better than the hospital grade rental I had (I won't name the brand).
Don't forget your nursing bra's and tops!
5. Baby Sling
aaron is long but skinny and I feel that he is still too little for his carrier but this sling makes him feel so snug that it puts him to sleep every time he's in it. My personal preference is the Balboa sling.
6. Sound Sleeper
Babies need white noise, I forgot to turn this on one night and aaron was waking up every hour! not fun!
7. Snuggle Nest
oh how things change when you become a parent. I used to say I would never co-sleep and then aaron came along and there are just some days that he is cranky and nothing soothes him other than being near mommy and daddy. To safely co-sleep this is a definite must have on our list.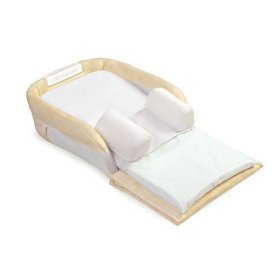 8.and of course a Camera! I swear aaron will hate to see all the pics I have taken of him DAILY when he is a teen but I can't help it! :)
and there you have it!